A few weeks ago I finally got around to reading "Gone Girl." (I love books but somehow always fail to be on the curve for reading them. I think Harry Potter is the only series I managed to read before it got super popular.) With the movie coming out, it's been popping up everywhere in the media. I finished it very soon after picking it up, and despite reading every analytic critique I can find, I still have no idea how I feel about it.

(This thread is going to be spoiler-tastic, as there's no good way to talk about my complicated feelings without spoiling the whole thing. Spoilers Ho!)

I keep telling myself that if you switched the genders, I'd be cheering for Nick's character all the way. I mean, framing someone for murder and turning public opinion against them-pretty damn awful. And yet at the same time, I find myself rooting for Amy! The "Cool Girl" speech won me right the hell over. The idea that she's reached this point after spending her entire life being shaped and modeled into the Perfect Woman, and yet as soon as she tried being herself (high-strung, a little selfish, "drama queen"), she's rejected and betrayed really got to me. And yet-she is psychotic! She is obviously not mentally well.

On top of that, she's practically a MRA's wet dream/nightmare of what a woman really is, deep down. She lies about very specific woman-centric things (rape, pregnancy), she manipulates with feminine wiles, she seduces then cuts off sex... She is the very worst of feminine stereotypes I almost can't take the threat of her too seriously.

Is it wrong that I emphasize so much more with the deranged villain than I do with the "poor" protagonist? What does it say that reading Nick's narrative made my stomach twist in a way that Amy's didn't? I feel like it's due to sheer dishonesty. Amy is crazy, but at least she's aware she's crazy. When we finally meet her in the 2nd part of the book, she is quite upfront with her motivations, her desires, and her psychosis. When Nick demands she be honest, she is. Yet Nick continues to shield his own motivations, even to the end of the book. He tells himself he's a good guy, even while allowing that he's hypocritical and dishonest. He insists he isn't like his dad, when he acts blatantly sexist (for example, he only likes a female character once she's useful to him. When Andi is no longer serving a purpose for him, he could care less about her feelings.) He says he's staying with Amy to exposure her/to shield the baby, but the idea that he'd had no leg to stand on and she still has all the social power just stretches suspension of disbelief.

Am I totally off base here? What were other people's readings of the book?

Relevant article: http://www.buzzfeed.com/adambvary/debating-gone-girl#yuqfzf



Posts

: 458


Reputation

: 261


Join date

: 2014-10-01



reboundstudent wrote:
Am I totally off base here? What were other people's readings of the book?
 
I'm, ahem, gonna take this as a yes?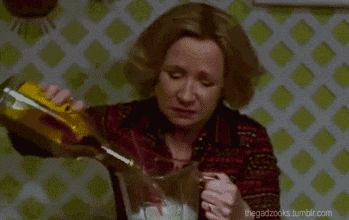 Posts

: 458


Reputation

: 261


Join date

: 2014-10-01



Sorry, Marty! Not ignoring you, I just haven't read the book. I'm vaguely planning on seeing the movie, but I'm waiting a tad because some of the things I've heard about it make me think I might have triggery reactions to it, so it needs to be on the right day.
General Oversight Moderator




Posts

: 1980


Reputation

: 981


Join date

: 2014-09-24



I haven't seen the movie (and don't intend to), but it sounds like you have a case of misaimed fandom. Don't worry you're in good company (I've had this happen to me on some occasions

)
Though, reading that Buzzfeed article, maybe you were supposed to feel conflicted by the end of the movie.



Posts

: 896


Reputation

: 198


Join date

: 2014-10-01



The Wisp wrote:I haven't seen the movie (and don't intend to), but it sounds like you have a case of misaimed fandom. Don't worry you're in good company (I've had this happen to me on some occasions

)

Though, reading that Buzzfeed article, maybe you were supposed to feel conflicted by the end of the movie.
From what I've read about the book, at least, this is one of those cases where conflict was built into the material rather than a misaimed fandom. I haven't read it or watched it, but I flinched in sympathy at the "Cool Girl" speech, because at my ugliest and least charitable, I've had some similar thoughts. Given that it's a book written by a woman for a reading audience that contains more women than men, I'm assuming that the possibility of sympathy for this character is a feature rather than a bug.
Gillian Flynn, Gone Girl wrote:"Men always say that as the defining compliment, don't they? She's a cool girl. Being the Cool Girl means I am a hot, brilliant, funny woman who adores football, poker, dirty jokes, and burping, who plays video games, drinks cheap beer, loves threesomes and anal sex, and jams hot dogs and hamburgers into her mouth like she's hosting the world's biggest culinary gang bang while somehow maintaining a size 2, because Cool Girls are above all hot. Hot and understanding. Cool Girls never get angry; they only smile in a chagrined, loving manner and let their men do whatever they want. Go ahead, shit on me, I don't mind, I'm the Cool Girl.

Men actually think this girl exists. Maybe they're fooled because so many women are willing to pretend to be this girl. For a long time Cool Girl offended me. I used to see men – friends, coworkers, strangers – giddy over these awful pretender women, and I'd want to sit these men down and calmly say: You are not dating a woman, you are dating a woman who has watched too many movies written by socially awkward men who'd like to believe that this kind of woman exists and might kiss them. I'd want to grab the poor guy by his lapels or messenger bag and say: The bitch doesn't really love chili dogs that much – no one loves chili dogs that much! And the Cool Girls are even more pathetic: They're not even pretending to be the woman they want to be, they're pretending to be the woman a man wants them to be. Oh, and if you're not a Cool Girl, I beg you not to believe that your man doesn't want the Cool Girl. It may be a slightly different version – maybe he's a vegetarian, so Cool Girl loves seitan and is great with dogs; or maybe he's a hipster artist, so Cool Girl is a tattooed, bespectacled nerd who loves comics. There are variations to the window dressing, but believe me, he wants Cool Girl, who is basically the girl who likes every fucking thing he likes and doesn't ever complain. (How do you know you're not Cool Girl? Because he says things like: "I like strong women." If he says that to you, he will at some point fuck someone else. Because "I like strong women" is code for "I hate strong women.")"
General Oversight Moderator




Posts

: 1980


Reputation

: 981


Join date

: 2014-09-24



I hated every character in that book, but in really enjoyable ways.

More specifically, I found Amy to be gloriously cathartic. You want a Cool Girl? You want someone who will calculate her every single move in order to please you? Who understands you so well that she can predict everything you want? Who has the self-discipline to perform something she isn't, every hour of every day, just to get your oh-so-precious approval?

Great. Now what happens when that person gets righteously and terminally pissed, and has not a shred of conscience to stop them from turning on you?

You wanted the monster. Live with the fucking monster.

That's why I like Amy.



Posts

: 289


Reputation

: 204


Join date

: 2014-10-01



Yeah, I didn't mean to just ignore you either; when you first posted the topic, I thought, "oh, huh, that sounds like the kind of story I'd 'love to hate'—I might not enjoy reading it but I'd like to join a discussion about it since it sounds like there's a lot to unpack."

Then I read the Wikipedia entry on it and the circular BuzzFeed "debate" and changed my mind. Sorry; can't do this one.



Posts

: 1052


Reputation

: 428


Join date

: 2014-10-01



My sister and I plan to check out the film, but neither of us have read the book yet so I can't really comment on it. However, it does sound like an intriguing plot. One that a lot of fun can be had dissecting everyone in it.

That's good to know considering my sister and I were going to see the film just because of the soundtrack by Trent Reznor and Atticus (man, that's a cool name) Ross.
DISCLAIMER: I've seen the film, but I haven't yet read the novel.

Something interesting about the "Cool Girl" concept that doesn't get brought up in many discussions of the speech: although she hates performing to meet expectations, Amy also imposes expectations on Nick and tries to change and control him-- make him into an ideal, ambitious novelist husband. The film's narrative suggests that Nick never imposed a performance of cool girl-ness on Amy, but that she offered it to him in the sort of emotional potlatch that Captain Awkward talks about sometimes-- when we deeply want something from somebody else, so we give it to them and hope this compels them to give it to us in return. She ultimately feels let down when, despite her performance, Nick is a huge disappointment.

By faking her own murder, she sees that she can finally get Nick to perform the way that she wants him to-- as she sees when he gives that masterful performance on the TV show. And, in the end, instead of accepting Nick's request that the two of them part-- which would have freed her from performance and given her autonomy-- she chooses to force him to stay with her. Basically, the power to make her partner perform is more important to her than authenticity and freedom are. And in the end, this is the choice that she has always made. She could always have fought to be more authentic with Nick, or left him if he didn't accept her the way she was-- after all, she did always have all of their money. Even though she minimized her own agency in performing it, acting the Cool Girl was a tool which she used to get the control which she wanted.

So, in the end, I would say that her arc is very feminist, albeit in a fairly indirect and somewhat heterodox way.* This is because it can serve as a metaphor for a lot of social justice stories. We all want to be free and authentic, but we also very badly want to control and dominate others, so we partake in onerous social performances and remake the very power hierarchies that limit and hurt us so that we can perpetuate that control and domination. Then, we act as if we couldn't have done anything else, and, if we don't get our way, we lash out with violence against the people we want to control. Ironically, Amy's position in Gone Girl's narrative is a lot like the self-destructive woman-hating toxic masculinity-imbibing Red Piller in our society.

*Specifically, it's compatible with strains of feminism which believe that patriarchal societal structures hurt men in significant ways which are worthy of attention, concern, and action.



Posts

: 143


Reputation

: 58


Join date

: 2014-10-02



Interesting interpretation Lemminkainen!

This is definitely one of those pieces of fiction that I have no desire to read, and yet at the same time I find commentaries on it fascinating.



Posts

: 896


Reputation

: 198


Join date

: 2014-10-01



I saw this post yesterday and it was kind of funny cause that same day I came across this long podcast which covered the book too.

http://www.stuffmomnevertoldyou.com/podcasts/gone-girls/



Posts

: 15


Reputation

: 0


Join date

: 2014-10-01



---
Permissions in this forum:
You
cannot
reply to topics in this forum