This thread idea came to mind upon thinking about the 90s nostalgia open thread on DNL Prime.
Let's discuss things in shows/movies/games/etc. from your childhood that left you creeped out or terrified.  
Jump Start 4th Grade has to be the first "horror" game I played.  It had a dark eerie atmosphere, and traveling around the island was unsettling even before your first time meeting Repsac.  How do I not remember having nightmares from that ghost?! I heard that it was remade to be less frightening, which I'm both relieved and disappointed by.

Chickpea Sarada




Posts

: 102


Reputation

: 26


Join date

: 2014-10-02





That on top of the unsettling things it says to you while you're fighting it, and the way it attacks...As a kid, fighting this battle in a dimly-lit room at night was the worst decision I've ever made.

caliseivy




Posts

: 302


Reputation

: 87


Join date

: 2014-10-03



I think no discussion of nostalgiac scares can be complete without a mention of THE art from Scary Stories to Tell in the Dark: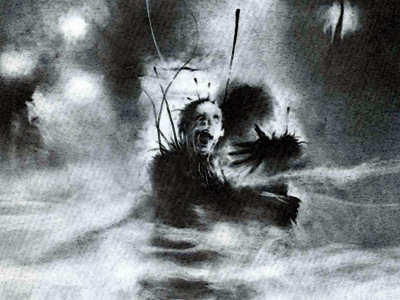 I hated to even touch it, so I turned the pages at the very corners.
I'm not one to get on my soapbox about Things From My Childhood That Are Different Now, but the fact that they changed the art for those books is just wrong.
Also Myst.  I was always expecting something uber creepy to leap out at me and it never did.

_________________
Please let it be an empty shoebox with a note saying "LOL Just kidding, I love cats, sorry I worried anyone. xoxox E. Schrödinger"

fakely mctest

General Oversight Moderator




Posts

: 298


Reputation

: 74


Join date

: 2014-09-24



Mine is a series of books about creepy witches, I don't remember the name, but my older sister got them, read them, and then told me they were so scary that she absolutely forbid me from ever reading them because they would scare me too much. Naturally, I snuck into her room and read them all and spent the next several weeks hiding under my blankets in wide-awake terror all night trying to wipe them from my memory. I sure showed her!

Enail

Admin




Posts

: 4198


Reputation

: 2415


Join date

: 2014-09-22




---
Permissions in this forum:
You
cannot
reply to topics in this forum